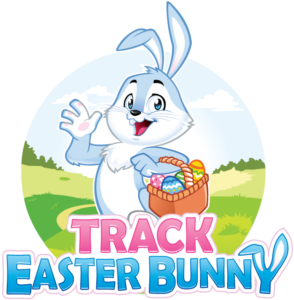 Track Easter Bunny is the internet's first and biggest Easter Bunny Tracker that empowers kids to learn all about Easter and the Easter Bunny in a fun and engaging way.
Launched in 2010, we are the Official Tracker of the Easter Bunny. Since its launch, Track Easter Bunny has increased in size and includes TrackEasterBunny.com, SantaTracker.net, Easter Bunny Email, EasterBunnyTracker.com, as well as mobile apps including Santa Tracker and Easter Bunny Tracker.
The Track Easter Bunny website has grown from just a few users to garnering hundreds of thousands (each Easter) since it launched the first Easter Bunny Tracker more than ten years ago. In addition to our websites and mobile apps, our newsletters (here and here) have reached nearly 10,000 subscribers, with more added on a daily basis. Our social media presence continues to grow with our combined Facebook (here and here) and Twitter (here and here) followers reaching nearly 50,000. And this year we're expanding into YouTube (here and here) to better serve our users.
We are constantly improving the Easter Bunny Tracker, so that you can join hundreds of thousands fans across the world who love to track the Easter Bunny. Our Easter Bunny Tracker technology allows us to track and document the movements of the fast-moving Easter Bunny. With the aid of our helpers out in the field, our engineers in-house, and a complicated set of algorithms, we are able to plot the Easter Bunny's location in real-time each and every year.
While we can't give away our secrets when it comes to our Easter Bunny tracking technology, we can assure you we have created a world-class Easter Bunny Tracker. We've worked hard so that we can provide the most accurate and up-to-date information to kids of all ages.
We welcome new ideas and suggestions for improvements.
Discover the History of Track Easter Bunny and how we grew to be an Easter Bunny Tracking giant in a few short years. 
Learn about the history here.