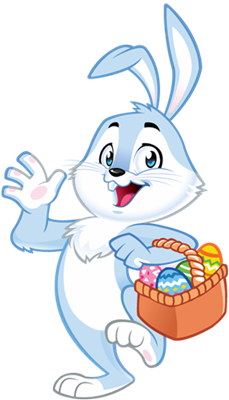 The Easter Bunny and his helpers are busy preparing for Easter 2024! On Saturday, March 30, 2024, at 5 AM Eastern time, the Track Easter Bunny website and apps will once again transform into a tracking experience where you can follow the Easter Bunny as he delivers Easter baskets and goodies to good kids around the world.
Millions of people love the Easter Bunny and that's where we come in. We're obsessed with helping the world keep track of the Easter Bunny.
The Easter Bunny Tracker is a service that lets you keep track as the Easter Bunny makes his journey across the globe.
Mobile Apps
The Easter Bunny Tracker app is available on mobile! You can download the app for Android and start tracking the Easter Bunny's activity now! Our app is also available on the Apple App Store! You can download the app for iOS and track the Easter Bunny on your iPhone or iPad.
With the aid of the Easter Bunny's helpers out in the field, sophisticated technology, and a complicated set of algorithms, we are able to plot the Easter Bunny's precise location in real-time each and every year.
As the Official Easter Bunny Tracker, Track Easter Bunny's Easter Bunny Tracker tracks the Easter Bunny's journey safely and reliably each and every year.
Wondering what the status is of the Easter Bunny Tracker? You can keep up-to-date on the Easter Bunny Tracker Status page. 
In addition to the Easter Bunny Tracker, there are a lot of other fun things to do on this website. We have games, poems, FAQs, coloring pages, pictures, and many more activities for your enjoyment.
We also have the Easter Bunny Tracker Countdown clock for 2024 so make sure to bookmark this page and return often for more updates.
Easter Bunny Helpers
Do you know where the Easter Bunny gets all his help from? The Easter Bunny Helpers. One of the best things about the Easter Bunny Helpers – is creating your very own. By following the special instructions on the Easter Bunny Helpers website, you can make the perfect one of a kind Easter Bunny Helper, just like you see in this book.
With a little love and some magical glitter, you'll have a super cute helper in no time! You get the joy of creating a helper that may someday help the Easter Bunny. Explore the amazing world of the Easter Bunny Helpers today!